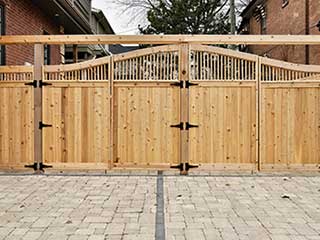 Home security is a serious topic, and its maintenance should always be on the forefront of a home-owner's mind. That is why our technicians at Gate Repair Coppell are dedicated to providing our customers with the best possible services for their residential security gates which are geared towards keeping their homes and families safe. We are experts at conducting repairs on broken or damaged gates, maintenance tasks such as part replacements to keep them lasting longer, as well as new installations which are conducted with accuracy and care. So, if you are in the market for a new gate at home, or are looking to keep yours in working order, contact one of our technicians today.
Residential Gate Installations
If you are looking to have a new gate installed in your home to better protect your family from intrusions then speak to our technicians about the selection of products that we work with, as well as our installation services. We work with a range of manufacturers of residential gate parts to be able to give you an exceptional choice between solutions that will best suit your needs, and will happily get to work installing them for you once a selection is made.
Maintenance on your Gates at Home
Keeping your automatic residential gate openers in constant working order requires a certain amount of routine upkeep to be conducted on them. Lubrication, replacing old and worn parts, and realignment are but a few of the maintenance services offered by our technicians, so let us assist you with extending the lifespan of your gate today.
Recovering and restoring your Driveway Gates
If your gate is particularly old, or has been damaged in an accident or through extensive use, speak to us about having it restored to peak condition once more. Our technicians can help you with a range of restorative tasks that will make your gate feel like it is new again.
Give our experts at Gate Repair Coppell a call today for more information on how we can help you with maintaining, repairing or installing your residential gate openers for you.
In addition, count on us for:
Liftmaster Gate Opener
Gate Exit Sensor Installation
Program Doorking Intercom
Sliding Gate Operator Repair