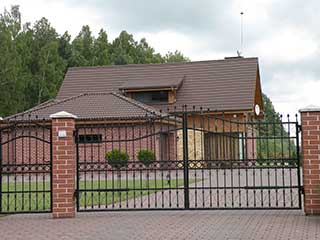 Do you want to impress visitors and make your home look as amazing as possible? Then our range of custom iron gates is perfect for you. With our fantastic high-quality iron gates, you get all the amazing custom designs you need to improve your home. We provide free estimates throughout Coppell and the surrounding area, so it's easy to find out how we can help you. Just get in touch with the team at Gate Repair Coppell today to see how affordable our iron gates are.
Cheap Custom Iron Gates
Have you ever wanted to add a little extra class to your Coppell property? Well now you can, with our custom iron gates. We offer entranceways that suit any property, and our team of experts is on hand to give you in-depth advice on which system is right for you. Choose from many different designs, including both swing gates and sliding gates. This means that however much space you have at your property, it's easy to find an iron gate that fits. Our free consultation process lets you see exactly which gate is right for your property, and how much it will cost. Arrange a no-obligation estimate today to find out more.
Why Choose Iron Gates For The Driveway?
Apart from looking great, there are many reasons why Coppell homeowners install iron gates at their properties. Firstly, iron is a very strong and sturdy material. It's a great way to protect your property from intruders since it's extremely difficult to damage. It will also last a long time. Just think of the iron railings outside classic townhouses, which have been in place for generations. Of course, iron does need to be carefully maintained in order to prevent corrosion. Regular painting is required to help protect the iron of your gate and fencing. Should you need help with problems, know that our local iron gate specialists provide a full range of repairs. And our same-day response policy stays in effect 7-days a week.
Installing Iron Gates in Coppell
Our team has been installing gates across the local area for years. That means when we install your new gate, you can be sure it's done right the first time. Our representatives work fast to deliver the high level of quality you expect. A gate that isn't properly installed can quickly develop problems, and many gates that won't open or close are caused by poor installation. Don't run the risk of a broken gate. Have your new iron swing or sliding gate installed by our team of professional technicians.
Repairing Iron Frames, Fences, and Gates
We deliver high-quality iron gate repair services throughout the local Coppell area. But we do more than fix problems. We also offer iron gate installation, at excellent prices that won't break the bank. If you'd like to see how we could improve your home, the next step is to contact us for a free estimate. Our reasonable rates mean it could cost a lot less than you think to get a custom iron gate for your home. Get in touch today.