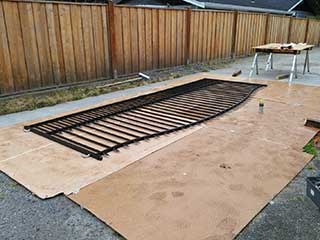 Make your home more secure and more attractive by installing a custom entrance gate. We can help you find the perfect new driveway gate, whether you're searching for a low-profile sliding gate or a custom wooden gate. Our Coppell-based team of technicians draws on many years of experience to bring you expert advice on exactly which gate is right for you. For a free estimate on gate installation, just get in touch with Gate Repair Coppell today.
Low-Cost Iron Gates
What makes a better first impression than custom iron gates? Any visitor to your home will be impressed when they see a set of wrought iron driveway gates designed to your exact specifications. Choose from a huge range of attractive designs that are bound to suit your home's aesthetics. When choosing a custom iron gate, bear in mind that these are typically heavier than other options. This is because iron is often formed into relatively thick bars, making the overall weight of the gate higher than it might otherwise be. Speak with our Coppell-based experts today to see how this might affect your plans.
Coppell Wooden Gate Experts
Wood is one of the most sought-after gate materials around, and it's easy to see why. This material offers a high level of protection while also giving your property an attractive, natural look. Our range of custom wooden gates includes bi-fold and ¾ size gates, so you can be sure you're getting the full range of designs. You'll also have plenty of ways to improve privacy by blocking line of sight. This is important when you want to keep your property private. Be sure to schedule regular maintenance appointments with our Coppell-based experts, though, because wooden gates need to be sealed and painted regularly.
Great Deals On Steel Gates
Looking for high-quality protection for your property? We provide a full range of steel gates, offering tough and long-lasting security. This includes wrought-iron style gates with intricate patterns, as well as lightweight designs such as chain-link gates. As with all metal gates, it's important to make sure your custom steel gates are regularly checked for any signs of corrosion. With regular maintenance, though, your steel gates should last a long time.
Arrange A Free Estimate Today
Looking for the best gate installers near you? We're the Coppell-based gate company to call. If you'd like to know more about our gate installation services then simply schedule a free estimate at your home or business. Our knowledgeable representatives will give you all the information you need to choose the perfect new gate for your property. Add a little extra curb appeal to your home today by investing in a strong, custom-designed driveway gate.