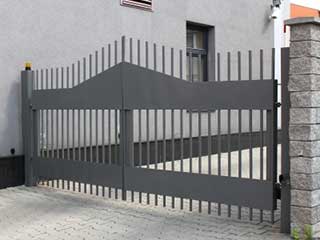 The driveway gates at your property contribute to its beauty and security. High-quality custom driveway gates announce to the world that your home is an attractive, well-kept place. They also provide a high level of security that keeps out would-be intruders. We're proud to offer our amazing range of custom gates to Coppell homeowners. From wooden gates to iron ones, we have an amazing range that guarantees satisfaction. Gate Repair Coppell has been installing custom entrances across the local area for years, and we're proud to provide great services at low prices. To see how little a new gate could cost you, simply contact us today for a free, no-obligation quote.
Cheap Gate Installation For Coppell Driveways
Thanks to our many years of experience, we're able to offer a fast, reliable installation service for driveway gates. Our technicians have worked on all sorts of projects, which means there's nothing that they haven't seen before. Even if you have a challenging site, our team will be able to get the job done quickly and on time. That's important because we want you to start enjoying your new driveway gate as soon as you can. Speak with our Coppell-based team about our great rates on sliding gate and swing gate installation in your area.
Low-Cost Custom Driveway Gates
A new gate doesn't have to cost a lot. In fact, our range of high-quality gates is priced very reasonably, which means Coppell homeowners can easily access the best entranceways on the market. We stock a wide variety of gate systems, including highly secure steel gates, classic-looking iron gates, and attractive wooden gates. Our selection of both swing and sliding gates means no matter what size your property is, we'll have a gate that's a perfect match. Why not get in touch with our team today for a free estimate?
Gate Repairs At The Lowest Prices Around Coppell
When your gate goes wrong, it can have a major impact on your life. Imagine leaving for work before that big meeting only to discover your gate doesn't open? How about going on holiday knowing that your gate doesn't close properly? All of these problems and more are regular issues for local homeowners, and we're happy to be able to offer a solution. Our Coppell-based team of technicians can quickly pinpoint and resolve any issue. This even includes maintenance services for rusty iron gates or rotting wooden ones. Speak with our team today if you need fast, cheap gate repairs.
Quality Driveway Gate Services Near You
Too many homeowners put up with a driveway gate that does nothing for their home. Why not invest in a new custom gate that makes your Coppell driveway look better, and brings a much higher level of security? Our well-priced wood and iron gates are the perfect solution. Get in touch today to schedule a free estimate. Need repairs? Simply call. Our same-day solution policy was created just for you.