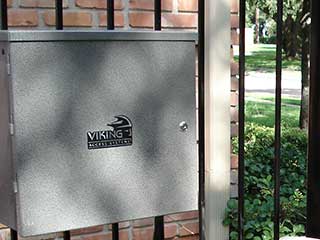 Home or business, there is no denying the convenience a gate opener offers. It's a definite bonus for your Coppell driveway gate, especially if you need to come and go several times throughout the day. But think of how much more convenient it will be for a business with a commercial gate system, where pick up and deliveries happen numerous times each hour. Sure, you can leave your house or get out of the car each time the gate needs to be opened or, with your business, you can hire security personnel to man the gate and open it every time a vehicle needs to pass through. Wouldn't it be so much easier though, to have a gate opener installed at your Coppell property?
Local Gate Opener Troubleshooters Near You
Gate Repair Coppell can come to your rescue regardless of the problem. We provide same-day troubleshooting for swing and sliding gate openers of all types. Whether it's a circuit board issue or a broken motor gear, or even some other problem with the drives system hardware (chains, metal arms, etc). We've got the local professionals who can repair your gate opener on the spot without wasting time, 7-days a week. Want to install a new model with better security features, backup battery, and Wi-Fi connectivity? We'll help you find the best opener for your gate very quickly. Make life a little easier and keep your Coppell property more secure with our help.
Double Gate Openers
Larger gates need practical solutions and dual door-ed systems need double gate openers to become the best solution for your home or business. Large double gates can definitely benefit from dual openers and they can have wired electrical connections as well as battery backups. This means you can operate them during periods of power outages. When it comes to double gate openers, you can have them installed for both swinging and sliding gates. Our knowledgeable Coppell-based gate opener specialists will help you ensure your gate and its motor unit are a match made in heaven. Consulting with us will help in ensuring your gate opener is powerful enough to work the size, type, and weight of the gate you have.
Swing Gate Openers
Swinging gates are the most common type, and they work well for large and small gated entrances. You can operate your swinging gate via a remote-control device that also has a sensor with your gate opener that will automatically close your gate after a set number of minutes, determined by you if you forget to close the gate once you pass through it. The most important factor in determining the type of swing gate opener is the size and weight of your gate. It will determine how much horsepower your new opener will need to have.
Articulated Arm Gate Openers
Older homes may have gates connected to considerably large pillars or columns. The standard type of linear arm gate opener may not be suitable for such a gate. Why? Because the gate itself may not be aligned with the edge of the column or pillar. An articulated arm gate opener has a hinged arm that can navigate its way around the column so that you won't have to make any unnecessary alterations. The articulate arm is inconspicuous and very effective at getting your gate opened.
Best Gate Opener Services Near Coppell
Don't be fooled by gimmicky advertising when it comes to investing in a gate opener for your home. At Gate Repair Coppell, we don't take chances when it comes to the security of your business or home. Call our experts and have a quality gate opener installed fast. Need help with a problem? Make full use of our same-day repairs and get the issue solved today!
Our team can also take care of:

Ornamental Iron Gates

Liftmaster Gate Opener

Doorking Gate Intercoms

Residential Gate Repair