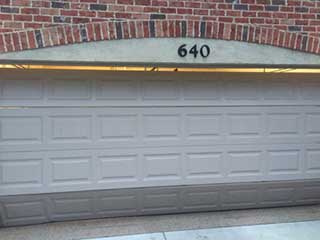 Avoid A Future Headache
Rather than wake up one morning to discover that your garage door completely refuses to work, or come home to find that it never closed properly and your belongings were exposed, make sure it's in the best shape possible! Pay attention to any indications of issues such as it moving more slowly or seeming to drag along, and get them taken care of sooner rather than later. Otherwise, you risk the damage worsening from stress and the door breaking down altogether.
Fast & Excellent Track Repair
The tracks are what your garage door slips along to move up and down, but if they've become dented or tweaked over the years, the door won't be able to do so very easily. These issues can occur from accidental bumps with the car, or wear and tear over time. In any case, it can potentially lead to the door popping out of the track altogether depending on the severity. We can help! We'll inspect and see if it's a problem that can simply be repaired, or if the track will need to be replaced entirely. If this is the case, we'll carefully remove the door and take out the original track, using markings and measuring to install the new one in the correct spot. Your door will move easily again before you know it.
Roller Repairs & Replacements Available
If not the tracks, the issue my lie within them with the rollers, which also help to move your door up and down. Over time they may wind up getting rusted from moisture, or worn from use, but we can repair or replace them right away. We'll clamp the door in place for safety before prying the track open to take a look at the rollers to see how to fix the problem, and have your door working like new again.
Get Your Appointment Scheduled Now
Call Gate Repair Coppell today and let us take care of any and all of your garage door's repair needs in no time at all. You'll be glad that you did!